Ceramic Industry magazine
ONLINE EXCLUSIVE: What's Next for Ceramext™?
by Christine L. Grahl, Editor
Posted on: 10/01/2005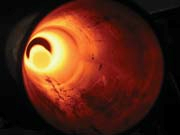 Inside the Ceramext furnace

Ross Guenther, a mining geologist, has always had an interest in gold mining. Lately, his focus has been on the Idaho-Maryland Mine in the Grass Valley Mining District (Grass Valley, Calif.), which ranks as the fifth largest gold producing district in the U.S. The Idaho-Maryland Mine, discovered in 1851, produced from 1862 through 1956 and is the second largest underground historical producer in California. Total recorded production at the Idaho-Maryland Mine was 2.4 million ounces of gold from 5.6 million short tons, for a recovered grade of 0.43 ounces of gold per short ton. When the mine closed in 1956, plenty of gold was left untouched; however, at a price of only $35 per ounce, it wasn't worth the effort to pursue.

Today, with gold trading around $400 per ounce, plenty of people are interested in reopening the mine. Emgold Mining Corp. initiated exploration of the Idaho-Maryland property in 1993, and the company's wholly owned subsidiary, Idaho-Maryland Mining Corp., has continued this exploration in an effort to develop a mineable gold resource. However, a limited amount of space to dispose of the mine rock and tailings-waste products that remain after the valuable gold has been removed-presented a significant challenge.

Ceramics formed through
the Ceramext process

In the early 2000s, Guenther, one of Emgold's directors, had an idea: What if these waste materials could be used to create other valuable products? Guenther tinkered around and soon had a new vacuum hot extrusion process set up in his garage. The process involved heating the raw material in a vacuum extruder until enough liquid phase was formed to develop the plasticity needed for extrusion. The use of vacuum in the extruder prevented air from being trapped in the material as it was coalesced under pressure. The plastic, pore-free material was then forced through a die at a high temperature. The result was an extremely dense ceramic that looked remarkably like high-end tile. When polished or glazed, the material resembled marble or granite.

Guenther contacted Carl Frahme, Ph.D., a ceramic consultant with more than 35 years of experience in the ceramic industry, who was immediately intrigued.

"This process promised to dramatically change how some ceramic products are manufactured. I was excited about the concept from the very beginning," Frahme says.
A Golden Opportunity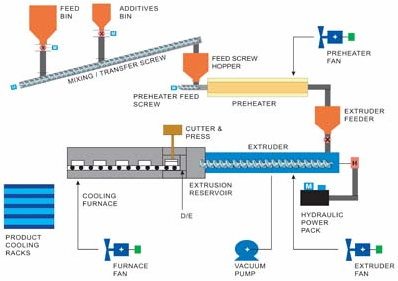 A schematic of the Golden Bear Ceramext demonstration plant

With Frahme's encouragement, Guenther worked to refine the technology, which he called Ceramext, and began exploring ways to take it to a commercial scale through his company, Ceramext LLC.1 Then, in early 2004, the small company achieved a significant breakthrough when Emgold Mining Corp.'s wholly owned U.S. subsidiary, Golden Bear Ceramics Co., licensed the process to convert mine tailings at the Idaho-Maryland Mine into value-added, high-quality ceramic products.

"This was a significant step forward," notes Frahme. "By operating as part of Emgold, we were able to obtain the funding necessary to considerably advance the Ceramext process."

As Golden Bear Ceramics Co., the operation quickly shifted from a garage- based experiment to a pilot-scale test process. In June 2004, the company moved into a 44,000-square-foot building in Grass Valley, Calif., and began using tailings from the Idaho-Maryland mine to further explore the feasibility of the process using a larger "Generation II" extrusion line.

For Emgold, the prospects are extremely attractive-instead of going through the expense and effort to dispose of its waste materials, the company can use virtually all of those materials to create a second high-value product worth an estimated $450-650 per ton, based on independent marketing surveys. With the Ceramext technology, Emgold's gold pro-duction costs will likely be lower than any other mine in the world.

The local community also stands to benefit. The combined mine exploration and ceramic development operations already employ 22 people, and Emgold spends an estimated $5-10 million each year in the Grass Valley community. When the mine becomes fully operational, it is expected to employ 200 people, and an additional 200 jobs will likely be created at Golden Bear Ceramics Co. to process the mine tailings.

"It's really a win-win situation for everyone involved," says Frahme.
Next Steps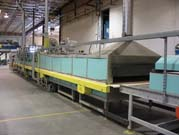 The Ceramext Generation II
extrusion line

For now, Emgold is focused on getting the necessary permits it needs to reopen the mine-a process that will likely take several more years to complete. In the meantime, work on Ceramext continues to move forward. Golden Bear Ceramics is in the process of installing what it calls the "Generation III" extrusion line, which will demonstrate production on a small scale. Additionally, the company expects to be spun off as a separate entity in the near future, which will allow it to take advantage of opportunities outside of Emgold.

Frahme admits that some challenges still exist to commercializing the technology on a broad scale. For example, the company is still trying to figure out how best to scale up its equipment capabilities and leverage its know-how in the market. However, Frahme is confident that these hurdles will be overcome.

"With this process, we can take a waste material that would otherwise cost a mine hundreds of thousands of dollars for disposal, and turn it into a beautiful product with a high market value that easily competes with the best ceramic tile and granite. We've proven that the Ceramext process is feasible. And because we' re using waste materials, the process is extremely cost effective.

"We're not sure yet whether we want to pursue licensing the technology to other companies or simply set ourselves up as our own manufacturing operation. But there's no question that this process has an enormous amount of potential. The opportunities are virtually limitless," he says.

For more information about the Ceramext process or Golden Bear Ceramics, contact Carl Frahme at 179 Clydesdale, P.O. Box 1836, Grass Valley, CA 95945; (530) 272-2542; fax (530) 272-2896; or e-mail cfrahme@Idaho-maryland.com.

More information about Emgold Mining Co. can be found at www.emgold.com, and more information about the Idaho-Maryland Mining Co. can be found at www.Idaho-maryland.com.
Reference
1. Frahme, Carl E., "Forming Ceramics Through Vacuum Hot Extrusion," Ceramic Industry, February 2003, online at www.ceramicindustry.com/CDA/ArticleInformation/features/BNP-__Features__Item/0,2710,91616,00.html.